Check this out...
Are you looking for a way to support your child's education but do not have the time to volunteer? Help them by donating as much or as little money as you'd like. You will receive pictures and thank you notes from the students you've helped. NOTE: This is a tax deductible donation.
Life at Centennial Elementary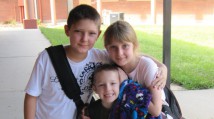 IMG_2321 IMG_2322 IMG_2323 IMG_2337
What people are saying...
The Centennial Elementary teachers are amazing!
The people – I love working with this staff.