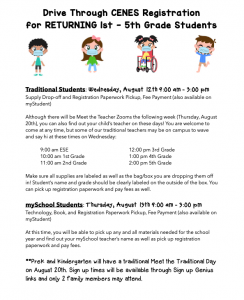 Drive Through CENES Registration for RETURNING 1st – 5th Grade Students
Traditional Students: Wednesday, August 12th 9:00 am – 3:00 pm Supply Drop-off and Registration Paperwork Pickup, Fee Payment (also available on myStudent)
Although there will be Meet the Teacher Zooms the following week (Thursday, August 20th), you can also find out your child's teacher on these days! You are welcome to come at any time, but some of our traditional teachers may be on campus to wave and say hi at these times on Wednesday:
9:00 am ESE
10:00 am 1st Grade 11:00 am 2nd Grade
12:00 pm 3rd Grade 1:00 pm 4th Grade 2:00 pm 5th Grade
Make sure all supplies are labeled as well as the bag/box you are dropping them off in! Student's name and grade should be clearly labeled on the outside of the box. You can pick up registration paperwork and pay fees as well.
mySchool Students: Thursday, August 13th 9:00 am – 3:00 pm Technology, Book, and Registration Paperwork Pickup, Fee Payment (also available on myStudent)
At this time, you will be able to pick up any and all materials needed for the school year and find out your mySchool teacher's name as well as pick up registration paperwork and pay fees.
**PreK and Kindergarten will have a traditional Meet the Traditional Day on August 20th. Sign up times will be available through Sign up Genius links and only 2 family members may attend.